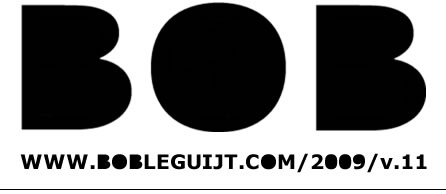 Welcome to www.bobleguijt.com. On this site you will vind artwork (paintings and drawings) of Bob Leguijt (1980 NL).
Page links:
Home: (00)
Paintings: (01) (02) (03)
Drawings: (01) (02) (03) (04) (05)
About BAK001 A.K.A. Bob Leguijt (00)
Contact BAK001: (00)
Web links:
SjaakKooij.com
Futura2000.com
Designiskinky.net
Mediumphobic.com
777run.com
Marcmulders.com
Danielrichter.com
Willemijntheisens.com
Viceland.nl
Kunstbeeld.nl
Mistermotley.nl

About Bob Leguijt (1980 NL)

Contact: bobleguijt@gmail.com
2001-2005
Amsterdam School of the Arts,
Bachelor in Fine Art & Education.
Exhibitions

Group exhibition, Wittetheater, IJmuiden, 2005
Group exhibition MHNK, Atlantes, Alkmaar, 2005
FIN, Graduation Exhibit, Academie van de Beeldende Vorming, Amsterdam, 2005
'Live painting', LAB 001/002, BG (Post CS) Amsterdam, 2007
'Live painting', Bruiz, Bitterzoet, Amsterdam, 2007
Description

Bob Leguijt's way of working cannot be described in just a couple of words and neither can his use of materials and themes. A complex and fictive world unfolds in front of the viewer, a world full of his own symbolism and themes. In the course of years this world has evolved, making it even more complex, just as the use of colors.

A permanent element in his work is the cartoonesk expressive language he uses. This creates a childlike, personal world full of weird, happy and sometimes disturbing characters. His work balances between innocence and adulthood, with the constant presence of the dark side of life trying to mislead the viewer. Love, parting, comfort and fear are the recurring themes in his work.

The raw linniar way of painting and drawing is Bob's signature way of working, creating an open and honest picture. Ideas often reveal itself to the artist during the work process. That's why he thinks the creative process is just as important as the eventual result.